HOOP-YOGA and DANCE RETREAT in Turkey 13.9.-18.9.2019
We are proud to present our third Hoop-Yoga Retreat in Turkey:0)!
Come with us to dive into amazing nature with many cultural trips, amazing food , hooping workshops and lots of dancing. We have spend a lot of time and effort to find the perfect place for our beautiful hooping community. A place filled with beauty, nature,  peace and love.
In the heart of Fethiye's countryside, this organic farm offers eco-friendly accommodation and a taste of traditional village life with outdoor activities for both children and adults.
This unique farm property features organic vegetable plots, farmyard animals and a rustic ambience.
Pastoral Vadi's charming bungalows are made from stone, mud-brick or wood. Each one has been ecologically designed and all waste and used water is recycled.
The produce used for meals has been grown on the farm or supplied by local farmers. Staff will teach guests how to prepare traditional Mediterranean cuisine.
Enjoy a relaxing escape from the stresses of 21st-century life in Yaniklar Village. Visit the local beach, just 10 minutes away. The river runs just by your wooden bungalows and  you can enjoy the swimming pool with natural spring water. This beautiful Eco Farm  is up in the mountains so it's never too hot there. Surrounded by amazing forests and beautiful meadows.
Hooping workshops will be with Edita Deveroux learning and exploring many new moves and implementing them into hoopdance.
We will  also have workshops of  very special focus on Dance with Lucie Pitelova teaching Port de Bras.
Burlesque classes with Ruby Bachemin.
In addition to that we have  prepared new workshops  with Lucie Pitelova teaching Body Balance to help us improve our core strenght and body balance.
We will sweat and improve our dancing skills but we will also have time to chill with Ruby Bachemin during her classes HoopYogini.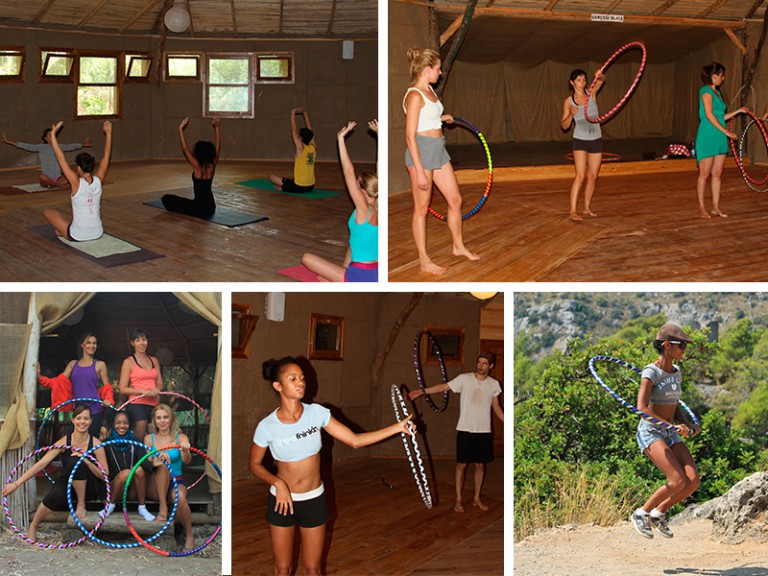 Come to enjoy 5 days of fun, hooping and dancing, beautiful beaches, endless meadows & forests, historical cities, abandoned villages and fantastic food!
Book now for Early Bird price of 450€ valid through April 1st
Late Bird price valid through June 1st is 550€.
Full Price is 650€
Price includes accommodation, breakfast, dinner and all workshops.
Sign up for Teacher Training  18.9.-19.9.2019 at discounted rate for our retreat attendees only! Save 200 € and pay only 399€! Price also includes studying materials and DVD's. Accommodation cost for the TT attendees is 90€ for 1 nights and it includes breakfast and dinner.
More about our previous retreats here: http://www.hoopgalaxy.com/en/article/hoop-yoga-retreat-turkey
Video
Retreats
Event date
09/13/2019 - 08:00

to

09/18/2019 - 20:00
Place
Register here