Christel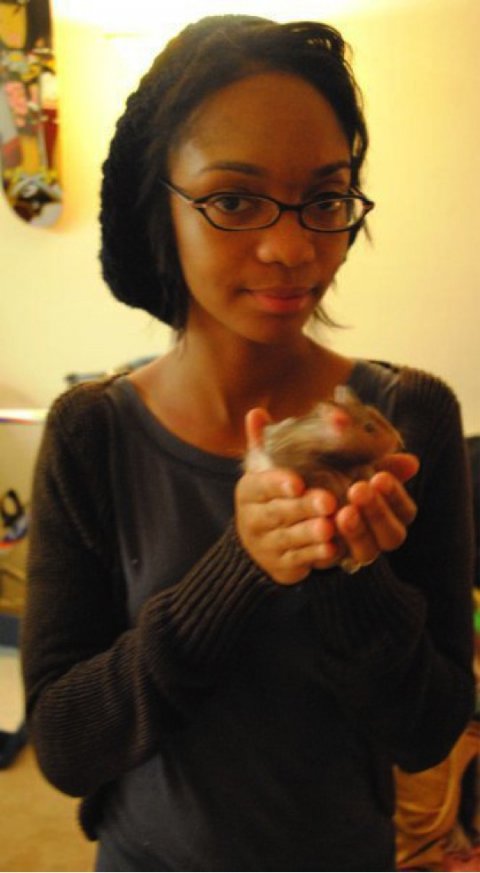 Build confidence
I like almost every little girl has picked up a hula hoop at one time or another in her lifetime, however most of us put it down when we come of age; along with our dolls and other toys never to be thought of again. Fast forward from my childhood to my 29th year of life, where I found myself grappling with sever depression. Brought on by the loss of my job and a pregnancy in the same week; the wind had been completely knocked out of my proverbial sails.
After two months of mopping around the house, I decided to attend the "Shade a Day Party" event at Woodley Park in Los Angeles (in the San Fernando Valley); to celebrate the summer solstice (and then try to cheer myself up a bit).  While there I ran into a friend of mine named Corina, she along with some of my friends had recently gotten into the Burning Man scene, and developed a passion for hooping and flow arts in general. So needless to say when I saw her that day, she had a plethora of hula hoops in tow.  I had seen girls hooping at outdoor events many times before, but never thought I could or should do that.  To me they looked like modern day fairies disguised as hippies or Burners, and I considered myself a solo dancer; a slave to the grove as it were.
The moment I saw  Corina, she thrusts a hoop in my hand and says "here you look like you need one of these today". To which I reply "I haven't used one of these since I was like 8 or 9 years old". She looks at me smiles and says "you will today".  
Something I hadn't felt in I couldn't remember, it was as if it was a completely new sensation in itself; yet I knew I had felt it before.  It was  that beautiful care-free feeling of my childhood, and at that moment all the pressing issues of my life melted away; like snow on the first warm day of spring.
I went back to the park by my house; where I found myself spending 3-4 hours at a time doing what I call playing. As the months passed not only did I completely snap out of my depression, my body changed in ways I never dreamed possible. Through hooping, I have been able to completely recalibrate my body, fix my posture, and now have abs and legs that will knock your sock off!!
As my passion for hooping grew, so did my collection of hoops to a whopping 15 and counting; 2 of which were purchased with the specific intent of accompanying me on my Honeymoon to France last August.  While here last summer, hooping in the Alpes and in the south of France, I realized that hooping was not as popular here as it is in the states, but felt it very well could be. As the trip progressed, I learned that I could actually teach to others what I had taught myself with some ease, and it occurred to me that I could really make a go of teaching the sport when we moved to France.
In January of this year my husband and I moved to Marseille, in my first week here I was offered a job teaching hoop at all the social centers in the city, just from someone watching me play at a social center here in Marseille.  Since then I have been given the opportunity to teach this summer in the entire Cotes du Provence region, and the Haute Savoir region as well.  Hooping has completely changed my life, and put me on a path I never even imagined possible.  Not only did I rediscover myself and my body becoming more fit than I have ever been, I've BEAT depressions a*s, and been able to parlay my passion for hooping into being able to work for myself teaching others. Allowing me to not only invest my time into building something positive for me and my family; but also giving me the opportunity to give back to my community at large via my non-profit Hoops and Hope; sharing with people (specifically but not always disadvantaged children) the joy I found in a simple piece of plastic shaped in the form of a circle.
Xoxo, Christel