I love to hula hoop !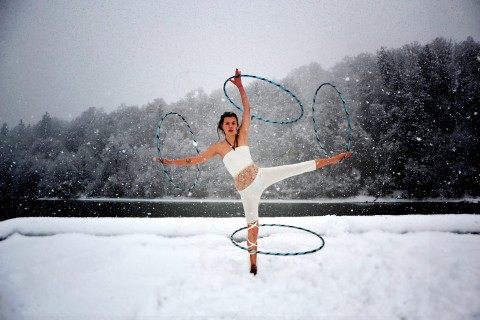 Build confidence
2011 My hoop story began with the Ozora festival in Hungary. I was sitting on a hill and saw a girl playing with the hula hoop and she was making a simple isolation. It looks like magic. It look like i can step trough the hula hoop and on the other side is an other world. There began my magical and never ending hoop story.
After the festival season I was sitting at home and watched thousands of hula hoop videos. Lisa Lottie became my biggest idol.
 I had a surgery in Autumn and after that  I bought my fist hula hoop wen I was at home. We had a great time together! I was hooping EVERYDAY.
2012 Summer I visited many festivals. Burning mountain was one of them and there was  Hoopnotica Europe stand where I met wonderful Edita Deveroux.
When I was home again I booked my first hula hoop workshop in Prague.The event was organized by Edita Deveroux and Angie Mack and Beka hoop where teaching there. I loved both of them! Really great and lovely women.
Spring 2013 I started with multi hooping. I learned how to play with 4 hoops! I was soooo proud and motivated :-)

Hoopurbia was also in Prague and there I met other hoopers like Ruby J

2013: this year in summer I went again to many festivals and get better multi hooping skills.
2013 in autumn I was in Brighton at a workshop and met Lisa Lottie wuhhuuu it was really exciting for me because I´m such a big fan of her!!
At home I got sick but I was "only" pregnant hihi. In this time I didn´t learn new things but I worked on  all the things I can do already. Beautiful time! Really beautiful time!!!
When my son Livio was born I made 2 months break but then I got motivated soooo bad I had to start again!I  think if Livio was not born I would never gotten the skills I have now! I do yoga, stretching and hooping everyday! I was never more in the moment like now! I love my life and I love to hula hoop its sooo powerful and meditative.