Meet Lizzie !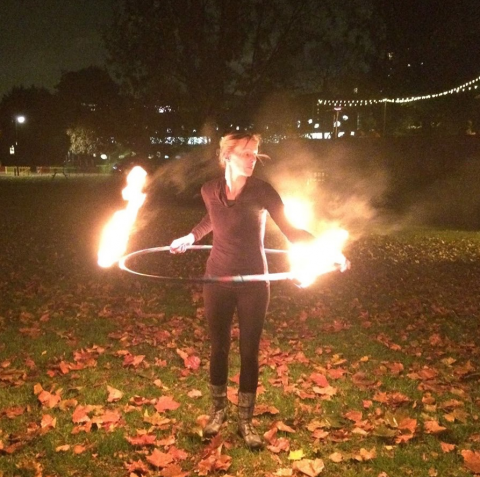 Build confidence
Hi!
I'm Lizzie and I live in London. My hooping journey began at a festival in Dorset, England in Autumn 2013. The performers in a circus tent encouraged my sister and I to try out their hoops. We both loved it, but work and the winter got in the way. Then for Christmas, my sister gave me a beautiful silver sparkly travel hoop and signed us up to a hoop tricks class with the amazing 'Anna the Hulagan'.
My sister lives on the other side of London, so our weekly hooping gives us a reason to meet more often. The sheer joy and laughter has reminded us of our childhood days of youthful, carefree fun. That feeling spills over into our everyday lives of work, busy-ness, commuting and definitely makes us feel young at heart and less ravaged by the pressures of our capitalistic, ambitious, driven society.
After learning a few tricks, my confidence improved and I developed a new connection to my inner woman. I began dashing home from work, eager to catch the last hours of sunshine to unwind with my hoop. When I discovered mini-rig speakers, my love of hooping grew even stronger, enhanced by music. I could prance away in parks, gardens, school halls, anywhere really! As my hooping obsession increased, I heard of SchoolaHoop camp…  This lead to fire hooping at a retreat in Shropshire, run by Gems Goddard of UK Hoop Gathering and then aerial hooping in London. 
I am a science teacher at secondary school, so set up an after-school club and soon had pupils aged 12-18 hooping (in an annoyingly proficient style – kids huh!?).  Amazingly, one of my students with severe dyspraxia has developed a confidence and coordination that was never anticipated – yet another sign of how amazing hooping can be.
However, once again, the UK winter made hooping hard…. my bedroom walls are bashed with tape tracks and a few breakages occurred! Now that spring is in the air and the days are longer, I am picking up my hoop and braving the outside temperature and UK dampness and drizzle. I am now looking forward to re-connecting with the hooping frenzy, summer, picnics in parks, and of course the Turkey hoop and yoga retreat with HoopGalaxy.